Fantasy Grounds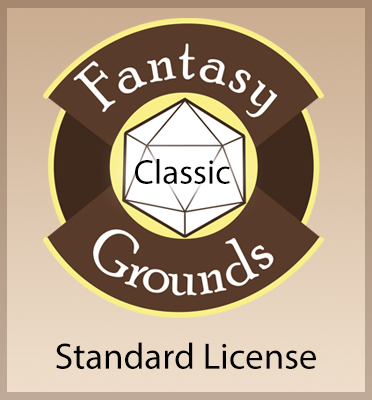 2020 update Fantasy Grounds Unity seems close to release
Summer 2019 update: Fantasy Grounds created a Kickstarter for a version made in Unity which was successfully funded. Beta for kickstarters planned to start December 2019.
Cursory Review 2018: Very active development/community, official licence for various editions of Dungeons & Dragons and Pathfinder, Savage Worlds, Call of Cthulhu, Chaosium, Rolemaster, and Castles & Crusades. Community has also created unofficial versions for many other systems, and players can also create fully custom rulesets.
Fantasy Grounds is an application acting as a virtual online gaming table primarily intended for pen and paper style narrative role playing games. It's designed to perform many of the things you can do while playing at a conventional gaming table and move it online. Run games as the gamemaster or take part as a player, the application provides all the necessary tools to communicate, manage information and perform tasks such as rolling the dice or creating drawings.
A user interface specifically designed to capture the spirit of pen & paper roleplaying. The Gamemaster can hand out sheets, maps, and notes for any or all players to interact with. Role playing is easy with dedicated chat features. Access all traditional paraphernalia available at the gaming table. These include dice, drawings, character sheets, portraits, tokens, and rulebook reference material.
Visualize tactical scenes using maps rich with features or create them on the fly. Draw on the virtual paper or reveal parts of maps prepared beforehand and place tokens to indicate player characters and NPCs. The Gamemaster can create and keep track of all in-game information. She can also customize game assets and user interface elements to accommodate house rules. Interactive fully realistic 3D dice.
Price
Free
Standard(3.99$/month or 39$ once)
Ultimate(9.99$/month or 149$ once)
Links
System Requirements
Windows
Windows XP, Vista or Windows 7 with DirectX 9.0 or better
DirectX 9.0 compatible video adapter
Pentium 3 500MHz or equivalent
RAM: 256 MB
Video memory: 32 MB
Hard drive space: 100 MB
Internet Connection
Linux/Mac
Linux or Mac with Wine 1.1.28 (or higher) or other Wine based cross-platform software such as CrossOver Mac
DirectX 9.0 compatible video adapter
Core 2 Duo processor or equivalent
RAM: 512 MB
Video memory: 64 MB
Hard drive space: 100 MB
Internet Connection
Fantasy Grounds Unity
Fantasy Grounds Unity is a project started around 2015/20161, and was Kickstarted with $509,343 in 2019.2 It has a plan to release in Q1 2020.3
Feature(plan)
Native support for Mac, Linux and Windows PC
Paint with images, such as walls
Animated image effects
Backward compatibility with all existing campaigns and DLC from FGC
Price4
Standard $39.99
Ultimate $149.99
Standard to Ultimate Upgrade $110
Upgrade FG Standard to FGU Standard $31.99 (20% off)
Upgrade FG Ultimate to FGU Ultimate $89.99 (40% off)
Comments
page revision: 34, last edited:
12 Feb 2020 11:49