Mapping Software
Page have been review 2018-03-30
ANAmap is an online Flash-based map editor, with emphasis on simplicity. It's free and requires no registration. It doesn't support any textures or off-grid placement of objects, but it balances that by being so straightforward and intuitive that it's very easy to create simple maps quickly.
AutoREALM Last Update( 2015-06-02)
AutoREALM is a Free GNU mapping software (a "cartographer") that can design maps of castles, cities, dungeons and more. AutoREALM is generally used by Role-playing Game practicants who enjoy doing their own maps. But it could fits the needs of other people. If you are a Role-Playing gamer or else, you are cordially invited to join the AutoREALM community: fellows gathered around a free hobbyist map tool. Originally made by Andrew Gryc (say "grits"), AutoREALM is now Open Source, creating a unique opportunity for the RPG world to mix graphics and computer programming.
Campaign Cartographer 3 is ProFantasy Software's flagship map-making software. CC3 gives you everything you need to create great maps for games, books and publishing. There are symbols and tools for overland maps from all ages, buildings, floorplans, heraldry, and many other uses. CC3, on its own, lets you create more and better maps, more quickly, than any comparable software. With the new features introduce in the latest verions, you can quickly create very attractive maps with effects usually found only in high-end graphics programs. (wikipedia page)
Dundjinni Last Update (2008)
Dundjinni is a full-featured fantasy map creation program. It allows users to create walls and floors, place objects, insert text, and more. It boasts an intuitive interface and an impressive selection of objects and textures (over 190 images). It also allows you to author d20 adventures in a simple yet elegant way.
It has monster stats from Core Rulebook 3 (MM), Privateer Press's Monsternomicon, Green Ronin's Book of Fiends, The Inner Circle's Denizens of Avadnu, and Monte Cook's Arcana Unearthed and Eldritch Might series. It has 33 character and monster tokens from Reaper Miniatures and over 100 character and monster tokens from Denizens of Avadnu.
Price:39.95$
Dungeon Painter is a free powerful encounter map design tool. Steam Version in early Access 2017.
No download, installation or registration required.
Fractal world map generator. Realistic, huge, almost infinite flat navigable world map. You can take any piece for your own world map.
With Fractal Mapper, creating worlds has never been so easy! Fractal Mapper is a high-powered mapping system that lets gamers create a wide variety of of maps - dungeons, continents, cities, and more! With it's easy to use interface, powerful features, and unique capabilities, making high quality maps with Fractal Mapper is a breeze!
Also included is a free add-on program called Fractal World Explorer. With this program you can create and edit stunning 3d shaded relief maps. In addition, FWE allows you to edit temperature and precipitation to create deserts and glaciers. You can even export an elevation contour map for use in Fractal Mapper!
Price:34.95$
A free browser-based hex map editor with custom tiles and submaps. Each hexagon can be associated with notes about what that hexagon contains which is perfect for hexcrawler. The shape of the tiles can be switched to square if needed and maps can be converted to a more common image format such as PNG.
The fourth version introduce a new feature: collaborative editing and multi-player experience, the map can even be reveal piece by piece to the player's device thanks to the fog of war.
No download or installation required. You can even use it offline by downloading the map to your computer and opening it in your browser.
Another free browser-based hex map editor with tile icons, custom tile colours, and subhexes. It is designed to be quick and easy to use. It features a random map generation system to quickly generate large hexcrawls complete with randomly generated monsters in each hex. There is a note taking system so you can attach your GM notes directly to locations on the map and make random tables to roll on during play (useful for wandering monsters and the like).
There is also a beta dungeon map maker that allows you to place dungeons into specific hexes.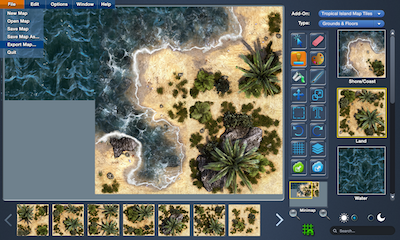 MapForge is battlemap creation software for Mac and Windows PCs, specializing in tactical-scale mapping (squares or hexes). The software offers an impressive content library, in the form of 100+ content Add-Ons (two dozen of which are free), covering a variety of genres (fantasy, sci-fi, modern-day, etc.). The software also offers a level of free use (limited to low-resolution output).
MapForge also allows users to add their own artwork, can create hex-crawl maps, edit Donjon maps, or create such maps from scratch. It also has the ability to apply image filter effects, such as drop-shadows, bevels, glows, adjusting hue/saturation/brightness/contrast, etc.
Price: ~$32.00, or free
Mipui is an online HTML5 map editor which is free, open-source, and requires no registration. It focuses on simplicity and real-time collaboration: any edits are propagated within seconds to anyone else who has the same map open. The editor does not support any textures or off-grid object placement, but on the other hand its simplicity allows for rapid map creation - especially since it includes a lot of convenience functions such as unlimited map resizing, pan and zoom, copy and paste, undo and redo and so on. It's also easy to share and remix other authors' maps.
RPG maper is free RPG tool. Create your map and export for playing. Free medieval, SF, asset.
Stone Sword includes an online browserbased Dungeon Maker and World Maker.
Tiamat is an on-line Tile Mapper ideal for crafting maps for Role Playing and Miniature games. Powered by nearly 3000 unique map tiles created by SkeletonKey Games, you can create beautiful custom maps at miniature scale for your game. Tiamat works on a mirco transaction model. Tiamat is FREE to use to create maps. You only pay for the maps and tiles you want exported for personal use.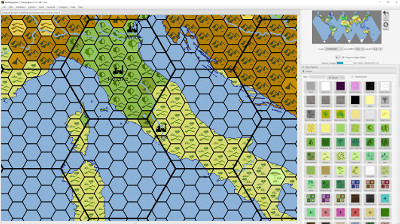 Worldographer auto-generates maps based on a few settings you choose and it lets you fully edit the maps created. Or start with a blank map. Make world/kingdom maps, battlemats (for dungeons, building interiors or tactical outdoor areas), and settlement (city/town/village) maps. Key features: "child maps" (aka map levels) drill down for more detail; link to settlement or battlemats; generate/edit/save world info (details on nations, cultures, religions, etc.); shapes with drop shadows, blurs, etc.; many wizards to quickly create maps.
Price: ~$30, or free
page revision: 33, last edited:
12 Sep 2019 20:45